Say Goodbye to Charging Cables with a Samsung Wireless Charger
Say Goodbye to Charging Cables with a Samsung Wireless Charger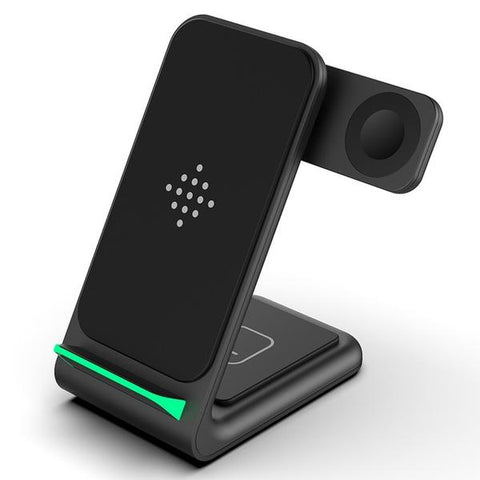 In this cable-cutting age, nothing feels as convenient as simply placing your Samsung phone on a wireless charging pad to keep it charged without having to fiddle with cables. 
Wireless chargers have made life easier. They give us the ability to pick up the phone, answer or make a call, then plop it back on the wireless charger effortlessly. 
The good news for Samsung users is that there are many wireless charger options on the market today to suit your smartphone.
What is Wireless Charging?
Wireless charging is basically a technology that allows you to charge your device over a short distance without using cables plugged into the charging port. 
This form of charging comes with several advantages. For instance, it's a fast and easier way to charge your phone because you don't have to keep plugging and unplugging your phone off the charger every time you want to use the phone. 
All you need to do is to simply place the phone on top of the wireless charging pad and you are good to go. Wireless chargers are not only convenient but also look neater than the usual charging cables cluttering your nightstand or desk.
There are several standards for wireless charging but the most popular one is Qi (pronounced "chee"). The Qi standard is supported by most of the major phone manufacturers including Samsung, Apple, OnePlus, Huawei, and Motorola. 
Samsung has for years been making a wide range of Qi-enabled phones. If you have one of the flagship Samsung phones released in the last three or four years, chances are that the phone works with wireless charging. 
How Does the Samsung Wireless Charger Work? 
The wireless charging concept basically works by transferring electrical energy from the charging dock to a receiver located at the back of your phone through electromagnetic induction. 
The wireless charger creates an alternating electromagnetic field. The receiver coil on the phone then turns the electromagnetic energy back to electricity that is transferred to the battery.
Both the phone and the wireless charger have to be in close proximity to each other and properly aligned on top of each other for the process to work. 
In most Samsung wireless chargers, the phone's orientation is not necessary, which means the charger works whether you place the phone in portrait or landscape position. 
What Are the Best Samsung Wireless Chargers?
There are several types and models of Samsung wireless smartphone chargers. All of them work in the same way although some such as the Belkin Boost Up Wireless Charging Stand come with extra features and functions. 
For instance, the Belkin wireless charger can charge up to 10W, allows you to place your phone on the charging dock in both portrait and landscape orientations, and is compatible with other Samsung Qi-enabled devices.
Other popular Samsung wireless chargers worth looking into include the Samsung DUO Pad which can charge two devices at the same time. 
It even comes with a fast-charging port, which means you can charge one device up to 15W and the other one at normal charging power simultaneously. 
There is also the Samsung Fast Charge 2.0 wireless charger stand that delivers up to 15W on supported devices and the Samsung 2-in-1 power bank with wireless charging which is a 10,000mAh charger that gives you 7.5W in wireless mode and 25W when plugged in via a USB cable. 
What to Look for in the Best Samsung Wireless Charger
Here are some of the important factors to consider before you buy a Samsung wireless charger:
One of the key things to consider when looking for a Samsung wireless charger is whether the charger is compatible with your phone. 
Normally, if the wireless charger is Qi-certified then it should work perfectly with your Samsung phone or even an iPhone and other types of Android phones. 
The best wireless charger should ideally be Qi certified by the Wireless Power Consortium or WPC and be fully compatible with all Qi-enabled Samsung devices including the Galaxy S4 and S5 up to S20, Galaxy Note 20 down to Galaxy Note 4, Galaxy Note 3, Galaxy Note Edge, S6, S6 Active, S6 Edge and S6 Edge Plus, and Galaxy Note 5 just to mention a few. 
Keep in mind that some of these phones such as Note 5 require an extra charging cover.
Wattage or Charging Power

 
Wattage basically varies from one type of wireless charger to another. 
A majority of Samsung wireless chargers support 10W to 15W while other chargers for Android phones and iPhones support 7.5W. The higher the charging power, such as 15W, the faster the wireless charger works. 
A good Samsung wireless charger should be able to replenish your phone's battery power and achieve a full charge in as little as 4 hours. It should also come with overload protection to prevent damage. 
When you decide to cut cables for a more stylish charging solution you should consider getting a wireless charger with a stylish design. 
The ideal charger shouldn't only look sleek and presentable but should also have a small footprint that takes minimal space on your desk and is easy to carry around. 
The wireless charger should also allow you to position your phone in either landscape or portrait mode. Keep in mind that some wireless chargers may not work well with phones that have thicker cases. 
The best Samsung wireless charger should at the very least be easy to set up and use. 
Thankfully, most Samsung wireless chargers come with built-in LED indicator lights that alert you if the phone is placed correctly or if it is not charging. 
The charger should also alert you using an LED light when your phone is fully charged. 
Conclusion
As phone charging technology advances, we expect to see more sophisticated wireless chargers entering the market. 
Meanwhile, you could start saying goodbye to lost charging cables and wires by investing in a Samsung wireless charger. 
The wireless charger uses Inductive Charging Technology to eliminate the need for charging cables. It comes with a charging pad ready to provide wireless power to your phone's battery whenever you place the phone on the device. 
A good Samsung wireless charger provides a quick way to access and use your phone while it's charging without having to unplug cords every time you want to make a call.