How to Choose the Best Magnetic Wireless Charger
How to Choose the Best Magnetic Wireless Charger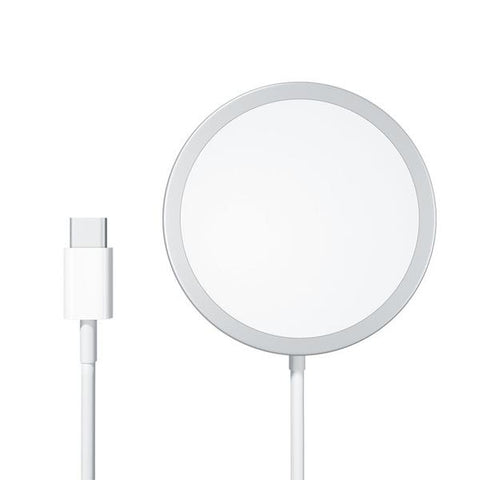 If you are always on the move then you most probably carry a phone charger alongside your smartphone. You have every reason to carry your phone charger wherever you go because the battery life of most smartphones today cannot keep up with even the average phone user's demands. 
The good news is that you don't need to keep hunting for free power outlets in coffee shops to charge your phone when you can simply use a wireless charger that uses magnetic cords rather than cables to transfer power to your phone. 
Wireless charging has been around for years but it is not until the emergence of a uniform standard known as Qi technology that this form of cord-free charging became quite popular. 
At the moment, most of the leading smartphone manufacturers including Samsung, Apple, OnePlus, Huawei, and Motorola are already using the technology through their Qi-enabled phones and other devices. The latest Samsung Galaxy models as well as Apple's iPhone 12, iPhone 11, and iPhone X support the Qi standard. 
The magnetic wireless charging technology in phones is a relatively new concept but to help you make an informed decision when choosing the best magnetic wireless charger here are some of the key factors to consider:
Type, Shape, and Size
Magnetic wireless chargers come in a wide range of shapes and sizes. Each style has its pros and cons and probably works better in some situations than others. There are basically three types of this type of wireless chargers namely pucks, mats, and stands. 
Pucks are the most common type of magnetic wireless chargers. They have a circular flat shape that resembles the flat puck that's used in ice hockey, hence the name. one of the main advantages of pucks is that they lie flat on your desk, table, or any convenient surface. 
They also look sleek and stylish. However, when charging your phone on a flat puck you may have difficulties seeing the phone's screen clearly. Pucks also have a smaller surface area compared to mats and stands.  
Just like pucks, mats have a flat shape on which you place your phone while charging wirelessly. However, they aren't as hard as pucks and have a larger surface area. Stands provide the best wireless magnetic charging because they hold the phone in an upright slightly angled position. You can easily monitor messages and other notifications on your phone while it's charging wirelessly on a stand. 
Stands are versatile and available in different designs that allow you to adjust your phone in different angles whether in portrait or landscape orientation. Your choice of puck, mat, or stand charger will depend on how frequently you use your phone and your personal preferences. 
A stand charger is, however, highly recommended for anyone who wants to keep an eye on his or her phone while it's charging.
Wattage and Charging Speed 
With more magnetic wireless chargers entering the market, charging speed has become an important factor to consider when choosing the best charger. Keep in mind that wireless chargers haven't really caught on because most models are much slower than wired chargers. 
Most wireless chargers can only crank out around 5W to 10W but recent models from leading brands such as Samsung can give you up to 15W, which is enough power to charge your phone fully within 4 hours. 
There are many wireless chargers today that will give you up to 7.5W, which can charge an iPhone 12, 11, or iPhone X relatively faster than a 5W charger. 
However, Apple devices, due to the nature of their design, charge rather slower than Android phones such as Samsung Galaxy Note 20 and Galaxy S20. If you want a wireless charger capable of charging your current phone and other products yet to be released, a 15W charger would be a safer bet.
Can the Charger Be Used in a Car? 
Another important factor to consider is whether the charger can be used in a car and if so how. The latest car models come with the wireless charging feature which is great given that we have become totally reliant on our phones for almost everything in life. You need to have your phone close at hand whether it is charging or not. 
However, most wireless car chargers are designed in a way that actually hides the phone from your view as a safety feature. While safe driving is a critically important feature in a car, forcing drivers to completely disengage from their phones is a bit too harsh. There is hands-free talking at the very least. 
I'm not in support of texting while driving or other equally dangerous stunts but if you can get a wireless charger that can be placed close to the radio dials on the dashboard you would comfortably monitor your phone while it charges just like you change radio stations while on the road.
Protection Against Over-Voltage
It's also important to check the phone safety features of the magnetic wireless phone charger. 
The wireless charger should come with features that protect your phone from over-voltage and over-current damages. The charger should protect your phone when such issues happen due to a power surge. 
It should also provide sufficient protection against battery performance issues such as overheating and overcharging. 
Most of the latest models of wireless chargers from reputable brands come with all the safety features needed to protect your phone.
Does the Charger Work with Your Phone Case?
The best magnetic wireless charger should at the very least be able to charge your phone with the case on. 
Most wireless chargers can charge the phone through a case with a thickness of 3mm to 5mm but fortunately, the average thickness of most phone cases hardly exceeds 2mm. All in all, make sure that the charger can charge your phone through the case. 
Remember that some cases have metal or magnetic clips that could interfere with the wireless charger. In such cases, you may have to discard your favorite phone case and invest in a case that works with the charger.
Conclusion
Magnetic wireless charging is becoming more popular today because of the convenience it offers to phone users across the globe. 
Wireless chargers are even being introduced in coffee shops and restaurants in most parts of the world. 
However, as this type of charger becomes more commonplace, it may be difficult to find one that best suits your needs. You can, however, consider the factors discussed above to help you make a more informed decision.