3 in 1 Apple Charger and Why You Need It
3 in 1 Apple Charger and Why You Need It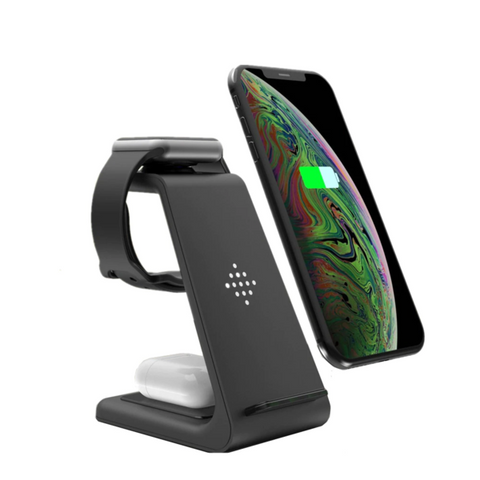 If you own an iPhone 12 or iPhone 11 from Apple then you know that it comes with wireless charging and you don't necessarily need to use cables to charge the phone. 
However, did you know that there's a 3-in-1 Apple charger that can wirelessly charge your 3 Apple devices at the same time? In this post, we look at the 3-in-1 Apple wireless charger and how you can use it to charge your iPhone 12, 11 or iPhone X as well as your Apple Watch and AirPods. 
Let's first look at what wireless charging is all about, what supports it, and its advantages. 
How Can You Charge Your Phone Without Using a Cable?
You can charge your iPhone wirelessly without having to plug in a charging cable. All you need to do is to simply place the phone face up on a charging mat or tabletop to start charging the phone's battery without using a charging cable. 
The process works for the iPhone 12, iPhone 11, iPhone 10 and a few more Apple devices. Most wireless chargers also support a wide range of Qi-enabled Apple devices. 
To use a wireless charger, you need the wireless charger, a phone that's Qi-enabled for wireless charging, or a case that can be added to your phone to allow wireless charging. The wireless charger is basically a little puck or mat or disc that converts electromagnetic energy and transfer it to the phone's receiver which then converts the electromagnetic energy into electricity to charge your phone's battery.
One question most people ask is how fast wireless charging is. Well, the truth is that wireless charging is a more convenient and easier way to charge your phone but it's in most cases slower than charging using a cable. 
However, with advances in technology, some wireless chargers come with fast charging technology. They can charge a large smartphone battery in as little as 2 to 4 hours. The chargers are normally rated by wattage. The most common types have 5W to 10W while the fastest models have a rating of 15W or more. 
So, what's the difference between wireless and wired chargers? Well, wireless charging provides more convenience but isn't as fast as a wired charger. Many wireless chargers on the market today provide 5W or 7.5W and mostly work via iPhone case. 
The Apple 3-in-1 Wireless Charger 
If you are a loyal Apple products user, chances are that you have an iPhone, AirPods, and possibly an Apple Watch. The most common way of keeping your devices charged at all times is to run three separate cords to 3 adapters. 
However, you can cut down the number of cables cluttering your home or office by using a single charging station. This is what you get from a 3-in-1 Apple charger. This type of charger gives you fast wireless power to three of your Apple devices, with the exemption of the iPad and MacBook in a neater and more convenient way.
A good 3-in-1 Apple charger, such as the Mophie 3-in-1 Wireless Charging Stand or the Belkin Boost Charge 3-in-1 Wireless Charging Dock, can simultaneously charge your iPhone, Apple Watch, and AirPods without having to fiddle with multiple cables. 
The Mophie charger provides you with an angled stand for proper alignment while charging your device. The Belkin Boost, on the other hand, gives you a 7.5W charging pad capable of charging any set of 3 Qi-enabled Apple devices at the quickest possible charging speed. 
It comes with a built-in Magnetic Charging Module capable of charging your Apple Watch with support for Nightstand mode. Its 3-in-1 dock comes with a third Qi module that can charge your AirPods or Airpods Pro. With a 3-in-1 Apple charger, you have the convenience of charging all three Apple devices from one AC outlet at the same time. 
Another popular multiple device Apple wireless charger is the Logitech Powered 3-in-1 Dock which gives you the ability to charge a second phone from the same charger if you don't have AirPods. 
You can still charge AirPods with this charger although you'll need to fiddle a little with its placement to get the proper alignment. The wireless 3-in-1 dock comes in a flat design which allows you to swap any Qi-enabled device including the Apple Watch.
How to Choose a Good 3-In-1 Apple Wireless Charger
There are several important factors you need to consider when shopping for the best 3-in-1 Apple charger. 
Besides price, which is often the number one consideration for most people, consider other important factors such as compatibility with your devices. You wouldn't want to spend money on a charger that doesn't work perfectly with your iPhone, Apple Watch, or phone case.
You will also need to consider how fast the wireless charger works. Choose one that comes with fast wireless charging. There are some good 3-in-1 wireless chargers on the market with up to 25% faster-charging technology and the ability to give your Qi-certified phone up to 7.5W power. 
The best charger should also come with Nightstand mode to hold your Apple Watch. The charger should hold the watch at an optimal viewing angle so that you can have a good view of the watch's alarm clock feature while it is charging.
The charger should also be compatible with your iPhone's case. You don't need to keep removing your phone's case every time you want to charge the phone wirelessly. After all, the goal of getting a wireless charger is the convenience and ease of use. The charger's charging pad should be able to charge through most cases with a width of up to 3mm. 
We also recommend getting a charger with a USB-C even if you won't need it at the moment. USB-C isn't only compatible with most phones but can also be quite useful if you have another phone that's not Qi-enabled or if the wireless charger malfunctions.
Conclusion
If your gadgets are mainly sourced from Apple, you definitely need a 3-in-1 Apple charger. 
The wireless charger is quite useful in charging multiple devices such as your iPhone, Apple Watch, and AirPods at the same time. 
It also helps in making sure that your drawers are free from cluttered white wires and adapters.